Dit evenement is voorbij.
A tribute to Miles Davis
juni 8|20:30

-

22:00

€10,00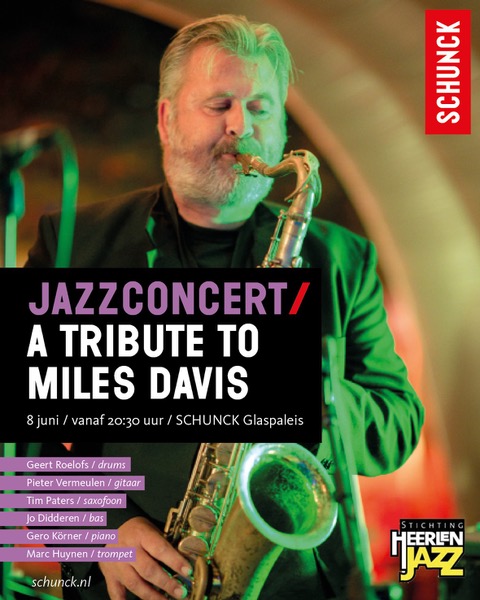 'A TRIBUTE TO MILES DAVIS ' –  EEN EDUCATIEF JAZZCONCERT 
Als trompettist was Miles Davis uniek vanwege zijn fantastische melancholische sound, zijn prachtige met weinig noten gespeelde melodielijnen en zijn gebruik van de harmon-mute.
Wat velen niet weten is dat Miles Davis als leider van talloze ensembles een enorme invloed heeft gehad op de ontwikkeling van de jazz sinds 1940.
Miles Davis had een gigantisch talent voor ontwikkeling en vernieuwing. Op elk van zijn stijlperioden had hij een carrière kunnen bouwen, maar als hij eenmaal een nieuwe speelwijze had ontdekt, verveelde hem die snel en ging hij op zoek naar iets nieuws.
Dit educatieve jazzconcert probeert deze ontwikkeling van de jazz in de vorige eeuw d.m.v. een jazzcombo die stukken uit het repertoire van Miles Davis speelt aan te tonen.
8 juni Schunck
Rob Sijben sax, (Tim Paters (ook op poster) is vanwege ziekte vervangen)
Marc Huynen trompet,
Jo Didderen bas,
Pieter Vermeulen gitaar,
Gero Körner piano
en Geert Roelofs drums.
Mogelijk gemaakt door: Schunck en St.Heerlen Jazz.
Het is niet altijd mogelijk om zonder reservering een concert te bezoeken. Check de website van de organisator.