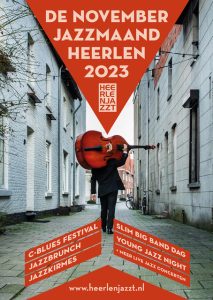 Stichting Heerlen Jazz wordt ondersteund door Gemeente Heerlen, Provincie LImburg, SLIM, en het Nederlands Fonds voor de Podiumkunsten ( SKIP).
Met dank aan: Media Profile, DAG, Top Copy.

Dit evenement is voorbij.
Streapa – Limbo Jazz Express
25 november 2021|20:30

-

23:00

€8
Straepa
Limbo Jazz Express
Stræpa, is een nieuw project van saxofonist Tim Paters en is een ontdekkingsreis van veldopnames, live-elektronica vermengd met traditionele instrumenten. Experimenten met techniek en sfeervol sounddesign. Voor zijn eerste EP werkte Tim onder andere samen met jazztrompettist Roel van Wijk.
Stræpa vond met zijn unieke benadering in elektronica en traditionele instrumenten een balans tussen beide werelden.
Ontmoet " Straepa" van producer Tim Paters
Een uniek muzikaal platform dat gebruikt maakt van field recordings, electronics en live muziek. Ieder nummer is een andere beleving en vertelt zijn eigen verhaal. Dagelijkse gebruiksvoorwerpen en geluiden vormt Tim tot een bijzondere samensmelting van klanken. Zijn muze is de wereld om hem heen.
De "Straepa" sound is een eclectische mix van jazztronica, electronics en Lo-Fi.
Pure muziek die je zintuigen prikkelen en meenemen naar een andere mindset.
Verras je smaakpapillen en laat je meevoeren op de klanken geïnspireerd door artiesten als Somni, Ametsub en Shrimpnose.
De live optredens zijn iedere keer weer een aparte beleving door een wisselende samenstelling van gastmuzikanten.
Sit back and relax…
Linda Smeets – zang
Dinja Paters – zang
Tim Paters – live electronics, saxofoon, fluit
Roel van Wijk – trompet
Peter Blom – percussie
Reserveren verplicht !
Online via ticketlink: €8,-
Via mail of telefoon reserveren €9,50
Knipkaartvoorstelling
info@cultuurhuisheerlen.nl
045 5612121 (ma-vr 10.00 – 17.00 uur)
Het is niet altijd mogelijk om zonder reservering een concert te bezoeken. Check de website van de organisator.