Dit evenement is voorbij.
Mardi Gras
20 november 2022|14:00

-

17:30

€15,00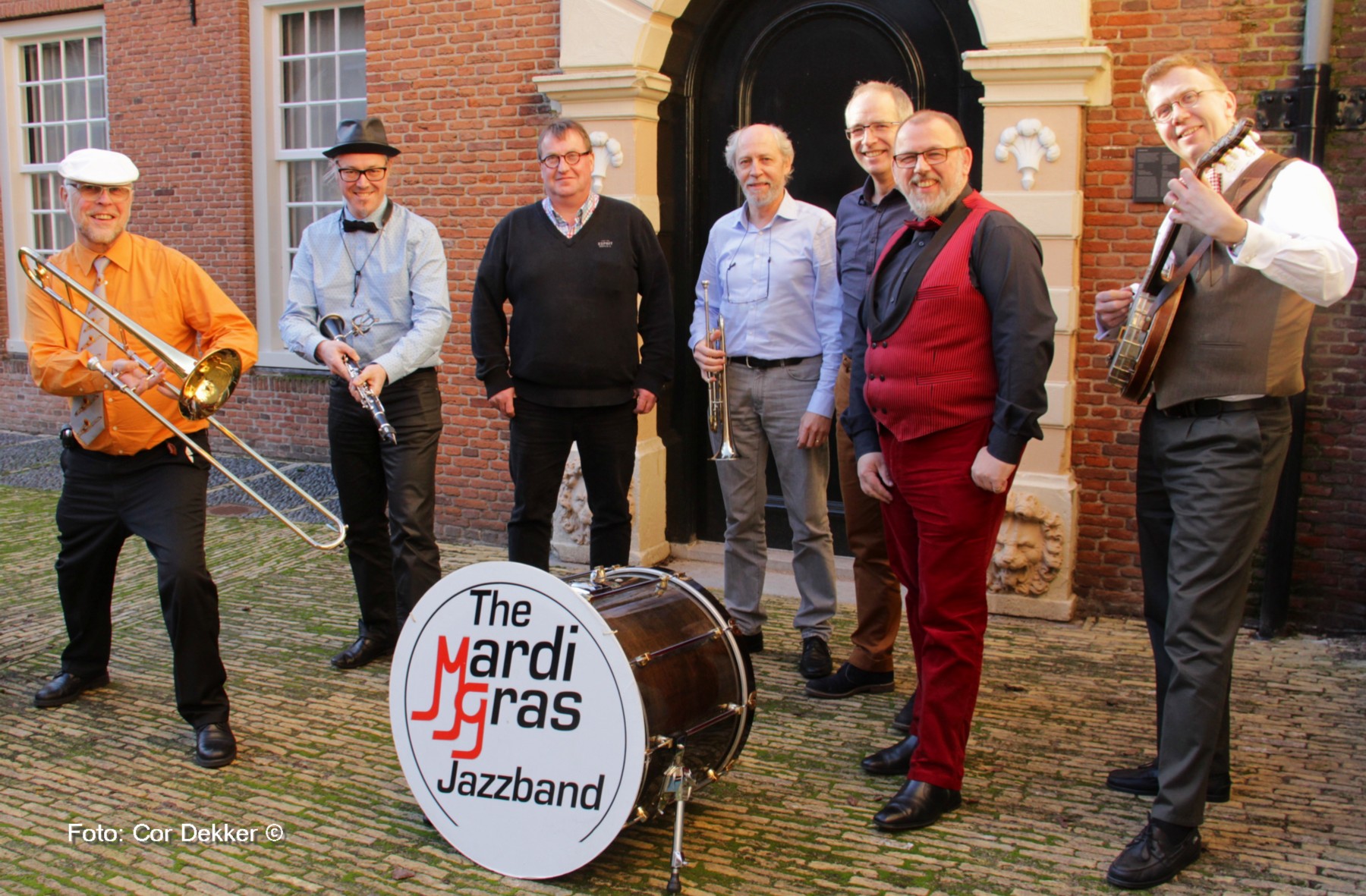 In januari 1983 bezegelden een zestal Grembergse muzikale vrienden hun voorliefde voor de oude stijl jazz door een eigen band op te richten. Ze kozen voor de naam "The Mardi Gras Jazzband" omdat die verwijst naar vastenavond in New Orleans, dé feestdag bij uitstek in de bakermat van de jazz.
Er werd gerepeteerd in het ontmoetingscentrum "Snuffel" en het is dan ook daar dat ze op 17 maart 1984 hun officiële première gaven. In de zomer van hetzelfde jaar staan zij op de affiche van de Internationale Kroegentocht in Oudenaarde. Vanaf 1985 worden de eerste contacten gelegd met de Honky Tonk Jazzclub en een jaar later vormt The Mardi Gras Jazzband, op het Dendermondse Jazzfestival een brassband, samen met de Engelse klarinettist Norman Holliday.
Al snel omvat de actieradius van het orkest het ganse Vlaamse Land. Regelmatig is de band te horen in "The Preservation Hall" te Brussel. Ze verzorgen optredens met gasten: Michel Thyrion, Guy Preckler, Norbert Detaeye en Dan Vernhettes van de Parijse Vintage Jazzmen.
The Mardi Gras Jazzband breekt internationaal door in 1987 in Goes en in 1988 spelen zij op de oude stijl jazzfestivals te Gorinchem en Breda. De pers spreekt van "één van België's meest populaire en succesvolle oude-stijl-orkesten." Een jaar later behalen zij tijdens de Dendermondse kroegentocht de tweede plaats in de publiekspoll.
Vanaf 1991 wordt The Mardi Gras Jazzband huisorkest van de Dendermonds Honky Tonk Jazzclub. Ze treden onder meer op tijdens de Honky Tonk boottochten op de Schelde en openen de podiumacts op het Jazzfestival te Dendermonde.
Aanvang: 14.00 u
Entree: reguliere bezoekers € 15.-
Vrienden van de Jazzlub € 10.-
Adres: Auberge de Rousch Kloosterkensweg 17 Heerlen
Het is niet altijd mogelijk om zonder reservering een concert te bezoeken. Check de website van de organisator.