Dit evenement is voorbij.
Dutch Jazz Heritage Trilogy Part Three: Ella Fitzgerald
5 november 2022|20:30

-

23:00

€17,50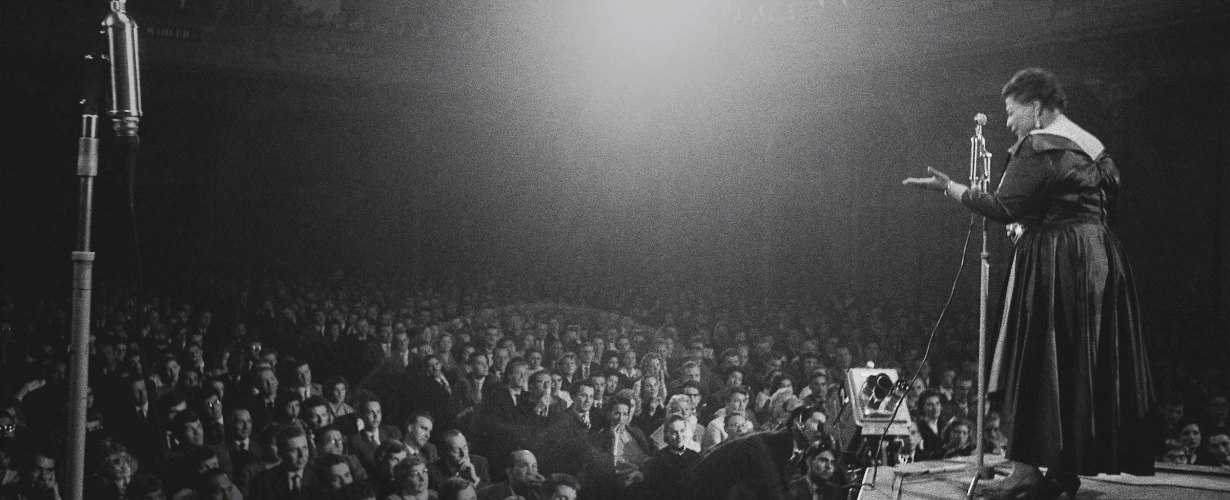 Het Jazz Orchestra of the Concertgebouw en Parkstad Limburg Theaters presenteren samen de drieluik 'Dutch Jazz Heritage'. In elk van deze concerten staat een legendarische jazzlegende centraal. We sluiten de reeks af met een ode aan Ella Fitzgerald, The Queen of Jazz, met Marjorie Barnes & Anna Serierse op zang.
Ella Fitzgerald
De legendarische zangeres Ella Fitzgerald behoeft eigenlijk geen introductie meer. De First Lady of Song genoot wereldfaam door klassiekers als April in Paris, Love For Sale en duetten met Louis Armstrong als Cheek to Cheek en Can't We Be Friends. Ze stond bekend om haar onmiskenbare, zuivere klank en werkte met alle grootheden: van Frank Sinatra en Dizzy Gillespie tot Duke Ellington en Count Basie.
Historisch concert
Op 5 mei 1957 stond The Queen of Jazz voor de tweede in het Concertgebouw in Amsterdam. In een afgeladen grote zaal veroverde ze de harten van het Nederlandse publiek. Het Jazz Orchestra of the Concertgebouw brengt een ode aan Ella Fitzgerald, vergezeld door zangeressen Marjorie Barnes, die eerder al in het voorprogramma van Frank Sinatra tourde, en Anna Serierse.
Jazz Orchestra of the Concertgebouw
Het Jazz Orchestra of the Concertgebouw bestaat uit de beste Nederlandse jazzmusici en is stevig geworteld in de Nederlandse big band traditie. De gerenommeerde big band speelt regelmatig met gastsolisten van wereldklasse, waaronder Joshua Redman, Dr. Lonnie Smith, Christian Scott en in het verleden ook met Toots Thielemans. Het orkest won maar liefst twee Edison Awards; voor Crossroads ( 2019) en Blues for the Date (2010).
Onder leiding van Rob Horsting reconstrueert het Jazz Orchestra of the Concertgebouw een legendarische optreden en de sfeer van 60 jaar geleden. Muziekjournalist en ooggetuige Bert Vuijsje vertelt het boeiende historische verhaal aan de hand van originele foto's en filmbeelden.
Uitvoering door
Dirigent: Rob Horsting
Teksten: Bert Vuijsje
Zangeressen: Marjorie Barnes & Anna Serierse
Muziek – Jazz / Wereldmuziek
Aanvang: 20:30 uur
THEATER HEERLEN – LIMBURGzaal
Sterrang: € 25,00
Rang 1: € 22,50
Rang 2: € 17,50
Rang 3: € 13,50
Het is niet altijd mogelijk om zonder reservering een concert te bezoeken. Check de website van de organisator.